The establishment of the third oldest monastery in Bohemia was supported by King Vladislav
I and the bishop of Olomouc, Jindřich Zdík.

History
The Strahov Monastery started its long journey through history with establishment of the
Premonstratensians. The former of Strahov monastery was founded by King Vladislav I. in 1140. The
proper construction of the stone Abbot's Church of the Assumption of Our Lady was
probably finished in the eight decade of the 12th century.
Building work switched to the construction of stone monastery buildings, which were almost
ready in 1182.
Architecture
The original Romanesque appearance of the monastery complex has not been preserved up to
the present day. It had to be rebuilt in the early Gothic style after a fire in 1258. In the course
of this alteration, the flat wooden ceiling was replaced by a dome and the Chapel of St Ursula
was added to the northern transept.
During the Hussite era the complex was plundered and it started to fall into a considerable
state of disrepair until Abbot Jan Lohelius started the reconstruction of the church in the
Renaissance style.
Later the basilica was extended westwards and it acquired a new façade. The Chapel of our
Lady of Passau was added to the southern transept.
French bombardnent
In the 18th century the basilica was badly damaged during the French bombardment of
Prague. The final appearance of buildings is the result of the reconstruction supervised by the
Italian architect Anselmo Lurago.
Today´s appearance
Today the basilica nave is 63 metres long, 10 metres wide,
and 16 metres high. The main altar was made by the well-known sculptor Ignác Platzer in
1768. The new altar in line with the restored liturgy of the Second Vatican Council was made
by Egino Weinert from Cologne.
Libary
The whole monastery complex also includes historical library halls. The first one is the
Theological Hall completed in 1679 under Abbot Jeroným Hirnhaim.
Nowadays this hall stores about 18 000 volumes. The name of the hall came from the fact that
this hall contains numerous editions of the Bible or parts of the Bible in many languages.
Another building is the Cabinet of Curiosities where it is possible to find natural science
collections, mainly sea fauna, complemented with collections of insects, minerals, and wax
replicas of fruit, archaeologica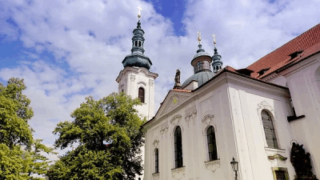 l collections: ceramics, handcuffs, and Hussite peasant
weapons.A curiosity appreciated by many is represented by the remains of the now-extinct Dodo bird
(Dodo ineptus).The Philosophical Hall was built in 1782 by the Abbot Václav Mayer. It is possible to find
more than 42 000 volumes covering themes from philosophy, astronomy, mathematics,
history, philology.
We hope you will come here to appreciate these historical buildings with us. Feel free to book a bed, or room in our hostel. You can make a reservation right here