Rudolfinum is one of the most significant music halls in Prague. It is located on the Jan Palach Square, in the vicinity of the Museum of Decorative Arts, the Faculty of Philosophy, and the Academy of Decorative Arts.
History and Architecture
This magnificant building is used as a musical auditorium and is one of the most important neo-renaissance buildings in the city. For many years Rudolfinum has been the home of the Czech Philharmonic Orchestra, and also one of the main venues for the famous Prague Spring International Music Festival held each year in May and June. The building project was overseen by the architect Josef Zítek and his loyal student Josef Schulz and was opened in February 8 in 1885. It was named in honour of Rudolf, Crown Prince of Austria who presided over the opening. Rudolfinum was desinged to be a multi-purpose building. The auditorium facing the square is used as a concert hall bearing the name of our famous Czech composer, Antonin Dvorak and is famous for its extraordinary acoustics.
Events
On 4 January 1896 the Czech Philharmonic's very first concert took place here and was conducted by Antonín Dvořák, himself. In the period between the World Wars the building served as the seat of the Czechoslovak Parliament.The rear part of the building, which is accessible from the embankment, is used as an exhibition hall. This Rudolfinum Art Gallery focuses mainly on contemporary a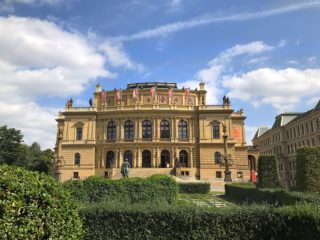 rt and is a state non-profit
institution directed and financed by the Ministry of Culture of the Czech Republic, and has been situated in the reconstructed part of the Rudolfinum building since 1 January 1994.. Nowadays approximately one thousand, five hundred square metres of exhibition area are available in the gallery space.
What makes this gallery unique is a large-scale architectural concept of exhibition halls illuminated by day-light passing through glassed-in ceilings, the appearence and mood of which can be changed by lowering the light levels in the halls and by various forms of artificial lighting.
It's possible to view artwork by František Drtikol, Cindy Sherman, Jürgen Klauke, Annelies Štrba, Neo Rauch, Gottfried Helnwein.
Visitors will find many themed exhibitions and accompanying programs running concurrently, and changing throughout the year as the gallery focuses on temporary presentations rather than on its own permanent one.